Faq
Payment Methods
For wine purchases, customers are requested to settle payment in full within 14 days from date on invoice, and the company reserves the right to cancel the order if we do not receive payment after the 14th day.
We accept the following methods of payment:
1.
By wire transfer (preferred method of payment)
Bank Name: HSBC
Account Name: Orient Logistics Limited T/A Hong Kong Wine Vault
Account Number: 808-769178-001
SWIFT Code: HSBCHKHHHKH
Kindly send us a copy of the payment slip to confirm your order, and we will arrange delivery upon receipt of payment.
2.
By cheque deposit
Please address the cheque to "Hong Kong Wine Vault", and we will arrange delivery once the cheque is cleared.
3.
By cash on delivery
We accept exact cash on delivery for orders up to HK$20,000.
4.
By credit card
We accept VISA/Mastercard via PayPal portal, subjected to 3% additional surcharge on invoice.
Payment can be done via online purchase, or we can send you a PayPal payment instruction.
Wine Delivery
We offer free local delivery to urban areas for orders over HK$3,000, service area including all residential and commercial addresses in Hong Kong Island, Kowloon, and the New Territories. For Ma Wan or Outlying Islands we are unable to deliver.
For next working day delivery, we must receive payment confirmation by 5:00pm the day before. Delivery service is available between 11:00am to 6:00pm, Mondays to Fridays. For order under HK$3000, the following additional delivery charge applies:
| | |
| --- | --- |
| Area | Delivery Charge (HKD) |
| HK Island | $100 |
| Kowloon | $150 |
| NT | $200 |
Refund Policy
Hong Kong Wine Vault reserves the right whether to offer refund or not.
For consignment wines, the Hong Kong Wine Vault cannot guarantee the provenance. Customers are strongly advised to inspect the wines prior to purchase to ascertain whether the wines are of a satisfactory condition.
In the event that wines are corked or out of condition for consumption, it will be at the discretion of Hong Kong Wine Vault that replacements be made available, without obligation.
Refund will take the form of a credit note where customer can use to make other purchases.
No refund is payable on pre-orders.
General Note
Bottle Size
The most common bottle sizes are as follows:
375ml
Half Bottle
750ml
Bottle
1.5L
Magnum
3.0L
Double Magnum (Bordeaux) or Jeroboam (Burgundy)
5.0L
Jeroboam (Bordeaux)
6.0L
Imperial
The larger the bottle, the slower the wine will age, because there is proportionally less air in the bottle compared to the wine, and this slows oxidation. Therefore, larger bottles offer a much longer drinking window. For example, if a wine has an expected life span of 30 years, the same wine in magnum format can have an expected life span of 40-50 years.
Ullage / Fill-level
Ullage is the gap between the cork and the level of wine when the bottle is vertical. We use the following terms to describe the ullage.
For Bordeaux bottles, the wine level should be in-neck on release. The fill-level may fall with age because of a loose / porous cork or poor storage, such that wine has leaked out of the bottle, and this increases the speed of aging of the wine.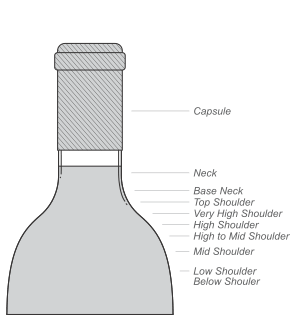 Decanting
Young red wines can be hard and stringent when first opened, and by decanting them for at least an hour or two, it allows the wine to open up and improves the texture. Wide-bottom decanters are particularly useful for speeding up the opening.
For more mature wines, sediment forms in the bottle and this can add bitterness to the taste, hence these wines may be decanted to filter out the sediment. Narrow vase-shaped decanters are more appropriate for this purpose so that the wine does not breathe too quickly.
Corked Wines
The fault arises from trace flavours within the cork which result in mouldy or wet newspaper flavour and a loss of fruit. The extent of fault can vary and minor faults may be difficult to detect. The fault arises from the cork manufacture and is a random occurrence in the order of 1-2% chance for recent vintages. If this occurs with a bottle you purchase from us within a month of taking delivery, we are happy to offer a full refund on all unopened bottles from the same case.
Oxidation
This can cause a drying sensation with toffee-like aroma, and causes dulled or lack of fruit on palate. This can occur with a low fill-level, poor cellaring or simply the wine is too old.
Bottle Shock
Wines can taste hard, angular, disjointed and lacking fruit after prolonged travelling or shaking. For wines you purchase from us, you are strongly advised to let the wines rest for at least 2 weeks before consumption for best results.
Wine Crystals
With time, crystals may form in the bottle and on the inside of the cork. This is a natural deposit reflecting a lack of processing in the wine and this is not a fault.
Seepage
Seepage is an indication that air has had at least some access to the wine. This can be caused by heating a bottle to well over 30 degrees Celsius and the expanded wine pushes through the cork under pressure; or this can happen with overfilling the bottle, which can happen in particular for wines of Leroy from Burgundy.
Temperature Of Serving
Generally red wines are served at "room temperature", but room temperature is often referred to European conditions, which is typically between 18-23 degrees Celsius. Therefore it is not unreasonable to chill the red wines a little in summer here before serving. White wines and champagnes are typically served between 8-14 degrees Celsius, and the more powerful and richer the wine, the warmer they should be served.